Vendors - We welcome you to the 2016 Head of the Schuylkill Regatta
Deadline for Payment: September 23, 2016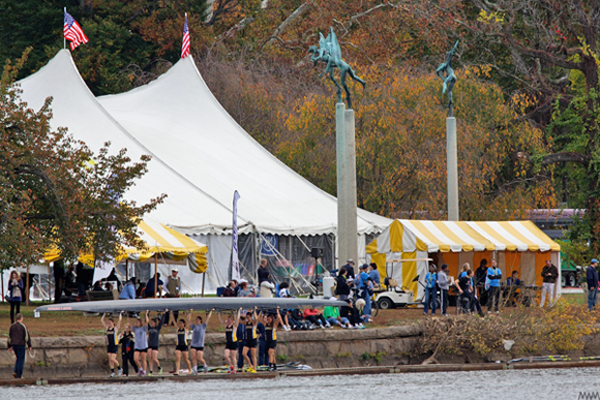 REGISTRATION IS OPEN AT REGATTA CENTRAL
The Head of the Schuylkill Regatta (the Regatta) invites you to join us and celebrate rowing on the iconic Schuylkill River. For 46 years, the Regatta has brought thousands of athletes to Fairmount Park for what is considered to be one of the best run, and most challenging head races in the US. It is Philadelphia's largest and most inclusive regatta, attracting novice to Olympic rowers from within the Mid-Atlantic region and beyond. The event's popularity recently required an expansion from one to two full days.
Important Dates and Times
| | |
| --- | --- |
| Regatta dates: | Saturday, October 28 & Sunday, October 29, 2017 |
| Deadline to pay vendor/exhibitor fees: | September 22, 2017 |
| Move in for vendors/exhibitors: | Friday, October 27, 2:00pm & Saturday, October 28, 6:00am |
| Move out for vendors/exhibitors: | Sunday, October 29, 5:00pm |
| Racing events: | Saturday 8:00am –4:45pm Sunday 8:00am – 4:45pm |
| Award ceremonies: | Saturday: 1:30 PM in Festival Tent Sunday: 11:00 AM and 3:30 PM in Festival Tent |
Why Become a Vendor or Exhibitor?
The Head of the Schuylkill Regatta (the Regatta) invites you to join us and celebrate rowing on the iconic Schuylkill River. For 46 years, the Regatta has brought thousands of athletes to Fairmount Park for what is considered to be one of the best run, and most challenging head races in the US. It is Philadelphia's largest and most inclusive regatta, attracting novice to Olympic rowers from within the Mid-Atlantic region and beyond. The event's popularity recently required an expansion from one to two full days.
Your Audience
The Regatta is attended by competitors, their families, friends and fans, as well as the many residents who routinely utilize the recreational draw of Fairmount Park to walk, run, bike or roller blade. This very large audience reflects highly desirable demographics, including:
Over 8,500 competitors of which approximately

40 % are high school students
30% are college/university students
20% are masters – over the age of 27
10% are club, elite and other categories

30,000 to 40,000 spectators over two days;
Attendance from the greater Mid-Atlantic region, with strong representation from the Philadelphia area and New Jersey, but also drawing from Massachusetts, Connecticut, New York, Maryland and Virginia;
Above average household income of $110,000 to $150,000, and above average educational attainment with 87% being college graduates and 60% holding advanced degrees.
Over 350 volunteers working over the Regatta weekend.
Who Should Come?
While the Regatta has always been an obvious venue for enterprises selling or exhibiting rowing related gear, equipment, artwork and memorabilia, the demographics support a broader range of goods and services offering life style enhancements. Examples include:
Any other non-rowing specific sports merchandise such as socks, headbands, backpacks, footgear, headwear, sunglasses, etc;
Health related products and services such as fitness clubs, organic foods; nutritional supplements, massage and chiropractic services;
General apparel appealing to the athletically inclined and/or eco-conscious consumer;
Financial services, including banks, insurance companies, investment bankers;
Unique and handcrafted items and giftware, particularly those appropriate for the upcoming holiday season!
Why You Should Come
The Regatta provides the opportunity to connect directly with your target customer, build relationships, and increase sales. Our venue allows our marketing partners access to a critical mass of competitors and spectators…and activity from beginning to end of the Regatta events. Attendance will build positive public relations by supporting one of the largest and longest established event for rowers of all age groups and experience.
Advantages of the Regatta include:
A vibrant centrally located Festival Area accessible via free transportation along Kelly Drive;
A single Festival Tent with vendors, results, awards and entertainment, designed to draw in your target audience;
Low Fees for two days of exposure;
On-site Security over Friday and Saturday nights;
Reserved vendor Parking for one vehicle.
The Venue
Festival Area
The Regatta holds an exclusive permit for the exhibition and sale of all merchandise during the two-day regatta in the area bounded by Sedgley Boathouse/Boathouse Row on the south to the East Park Canoe House on the north (Permitted Area). The Regatta festival is located at the Three Angels Statues located approximately 1 mile north of Boathouse Row, and midway within the Permitted Area. It adjoins the official launching area for out-of-town boats identified as Angels dock on all maps. The festival site includes the main festival tent, race commentary and announcing, food and boat vendors.
Once again, there will not be a second vending location at Boathouse Row or the Canoe Club, except for Official Merchandise and the Official HOSR Outfitter.
Main Festival Tent
There will be one main festival tent for vending, exhibitors, results, information, entertainment, and awards ceremonies. Only boat builders and rowing equipment vendors are permitted to bring and erect their own tents at designated locations within the festival area. All other vendors/exhibitors must be located within the festival tent.
The vending tent is 80' X 130' and provides booths around the perimeter and in the center. Booths are rented in multiples of 100 square feet (10′ x 10′), and come equipped with one table, two chairs and electrical hookup. We suggest that you bring an extension cord(s) as the electrical tie in may not be proximate to your space. The height of the tent back wall is approximately 8'.
Boat Vendors
All boat vendors, and oversize equipment vendors, are located outside of the Main Festival Tent, proximate to the approach to the main launching dock. Premium locations adjoin the approach. Other locations are between Kelly Drive and the bike path. If you have other needs, please contact Regatta vendor committee directly at vendors@hosr.org.
Overnight Security:
There will be some limited security ONLY within the Festival Tent on Friday and Saturday nights. Vendors are advised that the Regatta cannot assume responsibility for vendor merchandise, equipment, personal effects or trailers left at the regatta site. However, for the past three years, those vendors that have left merchandise overnight in the Festival Tent on Friday and Saturday nights have reported no problems.
Regatta Access:
As in the past, the City of Philadelphia and Fairmount Park will control ALL access to Kelly Drive between The Three Angels vending/festival area on the south to Strawberry Mansion Bridge on the north. Traffic between these two points will be restricted to southbound traffic only.
Starting at 6am on Saturday and Sunday, access will only be permitted at the Strawberry Mansion Bridge checkpoint. Prior to the Regatta, vendors will receive an HOSR Vendor hangtag which must be displayed. City Police will check for this at two checkpoints before you can proceed into the Regatta Festival area. Northbound traffic at the Three Angels site will not be permitted access, but will have to detour through Fairmount Park to get to the Falls Bridge checkpoint.
Vendor Parking:
Reserved vendor parking will be provided along Kelly Drive, proximate to the festival tent. Each vendor is entitled to only one reserved parking space regardless of the number of booths rented. A VENDOR placard will be mailed prior to the Regatta, and must be displayed prominently in order to park in the reserved area.
Click here: Onsite Parking Map
Any additional vehicles must be parked elsewhere along Kelly Drive or other designated locations on the traffic flow map. Free shuttle buses will be available to return you to the festival area.
Vendor Set-Up
Vendors may set-up either Friday afternoon, October 27th at 2:00pm or Saturday morning, October 28, at 6:00am. All locations will be marked with the vendor's name. A vending supervisor will be present to supervise set-up and assure that vendors occupy their proper locations.
Unloading/Loading:
Unless the ground is too soft to allow it, all vendors may unload/load directly into/from the festival tent during the designated hours prior to and after the regatta. Loading/unloading will be limited to 30 minutes, and will be monitored by a vendor supervisor. After unloading, all vehicles must be removed from the festival area.
If you are setting up on Friday, you cannot leave your car on Kelly Drive as it will not be closed to traffic. On Saturday and Sunday you may park on Kelly Drive or any other designated parking areas.
Please note that during regatta hours, vendors with HOSR Vendor hangtags may use the drop-off zone adjacent to the reserved vendor parking area to unload/load. You will be limited to 10 minutes in this zone. We strongly urge you not to leave your vehicle unattended, and have your staff meet you in this zone for pickup of materials. Unattended vehicles may be towed/ticketed.
Registration & Fees
The Regatta provides opportunities for Vendors, Exhibitors and Artists.
Vendors are enterprises that will be selling (i.e. exchanging money for) non-food merchandise or services at the Regatta.
Exhibitors are individuals or enterprises that will be displaying information only, and/or giving away sample merchandise or services without any exchange of money at the Regatta.
We also have limited opportunities for Artists selling handcrafted items in limited volume.
Any entity wishing to exhibit or sell items on either day of the Regatta in in the Permitted Area must register and pay all appropriate fees no later than September 22, 2017. Vendors must also obtain all necessary licenses and permits from the City of Philadelphia, and provide a certificate of insurance.
All Vendors must register through Regatta Central and pay all fees itemized on the reservation form and summarized below:
Vending fee of $100 for all vendors;
Vending Booths (10x10):

The first booth costs $700,
The second booth costs $400; additional booths are $250.
Electricity will be furnished to each space free of charge, however, we suggest you bring extension cords.
Each reserved booth comes with a table and two chairs. An additional table with two chairs can be reserved for $20.

Outside Boat/Equipment Vendors:

Basic fee of $600
Additional fee of $200 for premium location at dock approach
Returning 2016 vendors will have first choice of spaces and all other vending locations will be assigned on a first come, first served basis at the time of registration … so reserve your space early and please list your first, second and third choices of location!
Vendors must register at Regatta Central.
Food Vendors, Exhibitors and Artists cannot register through Regatta Central, but must contact the Regatta vendor committee directly at vendors@hosr.org.
Advertising opportunities are also available in our program book. For information, contact vendors@hosr.org.
Overnight Delivery Address
In order to ensure timely delivery of HOSR Vendor hangtags, vendor parking placards, and other information, all vendors must provide an address that can receive overnight delivery – in other words, no P.O. Boxes. We will be using Fedex again this year, however, if any vendor does not receive the necessary items by October 20, 2017, please send an email vendors@hosr.org with an overnight address.
Damage Deposit:
For 2017, no damage deposit will be required. If damage occurs due to vendor activity, the damage deposit will be reinstated for 2018.
Additional Terms, Conditions and Instructions
The following regulations have been imposed on the Regatta by the City of Philadelphia, and the Organizing Committee regrets any inconvenience.
Insurance
All vendors and exhibitors must provide a certificate of insurance at least one week prior to the Regatta naming the Head of the Schuylkill Regatta ® as an additional insured. This will be strictly enforced in 2017.
Permits and Licenses- City of Philadelphia:
Vendors are responsible for obtaining all appropriate license, permits and certifications from the City of Philadelphia. If you do not already have a City of Philadelphia Tax Account Number and Commercial Activities License, you will need to obtain one even if the Regatta is the only event you plan to attend in Philadelphia for 2017. The steps are:
Obtain a City of Philadelphia Tax Account Number
Obtain a City of Philadelphia Commercial Activity License. There is no fee for this license, but it obligates you to filing the Business Income and Receipts Tax and the Net Profits Tax returns every year unless you specifically terminate the Commercial Activity License.

Applicants wishing to apply for a Commercial Activity License online will need to register with the eCLIPSE system, which requires users to have an email address. Eclipse System;
Or you can send in the combined Tax Number and Commercial Activity License Application from above.

You must file both a Net Profits Tax return;
And a Business Income & Receipts Tax return
We apologize for this lengthy process, but hopefully the outline above will simplify it for you.
The City has informed the Regatta Committee that on the day of the Regatta, inspectors will be checking all vendors for appropriate licenses, permits and certifications, and will shut down noncomplying vendors. Please be sure to allow enough time to receive your license! In case you do not get the license, bring a copy of your application and proof of payment with you to the venue.
Licensed Merchandise:
The Regatta has exclusive rights to the use of the registered service mark "Head of the Schuylkill Regatta." No vendor will be permitted to sell any items bearing the service mark "Head of the Schuylkill Regatta" or Thomas Eakins Head of the Schuylkill Regatta or any mark confusingly similar thereto, except with the prior written permission of the Regatta Committee. Permission to vend at the Regatta does not constitute permission to use the service mark.
Warranties/Cancellation:
By request from participants and vendors alike… the Head of the Schuylkill Regatta was expanded to two days to accommodate the continuing growth in participants and spectators. Unfortunately, we cannot guarantee the volume of sales or attendance during the Regatta, nor does payment of vendor fees imply any such warranty.
The Regatta reserves the right to cancel the Regatta due to circumstances beyond its control, including river conditions or acts of nature. In the event of cancellation, and only if no Regatta events were completed, The Regatta will refund the vending fee of $100 only. If any Regatta events were completed, the Regatta will not refund any fees. Tent booth fees will be refunded only if the tent is not erected.
INCREASE YOUR EXPOSURE!  Purchase an Ad in the 2017 Keepsake Program Book
The HOSR offers Vendors and Exhibitors reduced rates for purchase of full, half and quarter page black and white ads.  Over 3,000 Program Books are distributed free of charge to athletes, coaches and spectators during regatta weekend.  An ad is a perfect compliment to your presence at the regatta, driving traffic to your booth in the tent, and to your business year round.  Complete and submit the Vendor Ad Form by September 8, 2017.
Contact
Any questions should be directed to: vendors@hosr.org