The Gold Cup
Single Sculling Championship
The Gold Cup 2014  |  www.thegoldcup.org
PHILADELPHIA CHALLENGE CUP FOUNDATION ANNOUNCES GOLD CUP CONTENDERS
Top International Rowers to Compete in Philadelphia for Title of Best Single Sculler in the World
PHILADELPHIA, PA (AUGUST 25, 2014) – The Gold Challenge Cup Foundation has announced the names of the eight elite scullers who will compete at the Head of the Schuylkill Regatta for the historic Gold Cup trophy and a purse of $10,000.
In the women's race, reigning Gold Cup champion and Olympic Gold Medalist Miroslava "Mirka" Knapková (Czech Republic) will face off against Kim Crow (Australia), Genevra "Gevvie" Stone (United States) and Chantal Achterberg (The Netherlands).
In the men's race, the current Olympic Gold Medalist Mahé Drysdale (New Zealand) will compete against Ondřej Synek, (Czech Republic), Yohann Rigogne (United States), and Kjetil Borch (Norway).
The athletes, who are currently competing at the World Rowing Championships in Amsterdam, will race in a four-lane heat across a 750-meter course on the Schuylkill River near boathouse row, beginning at 11:45 AM on Saturday, October 25, 2014.
---
The Head of the Schuylkill Regatta will host The Gold Cup challenge, bringing two great Philadelphia traditions together. The Gold Cup is the most storied race in Philadelphia's rich rowing history, and HOSR is emblematic of the City's rich rowing tradition with rowers of all skill levels competing across a diverse field of events.
The Gold Cup event will span 750 meters in the middle four lanes of the Schuylkill River, near iconic Boathouse Row, with world champions and Olympic medalists competing to have their names added to The Gold Cup trophy. The shorter length of the Gold Cup races will make for close competition and exciting finishes. Prize money of $10,000 will be awarded to the Champion; $5,000 for second place, $2,500 for third place and $1,000 for fourth place. A Gold Cup medal will be given to each winner. The day's events will also feature a Gold Cup Corporate Challenge in partnership with Drexel University's rowing program. Area corporations will enter teams of employees to vie for their own place in history as Gold Cup champions.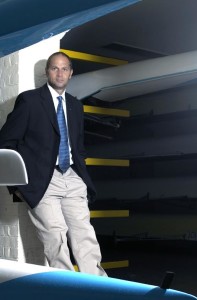 The world's most outstanding rower of all time, former British rower Sir Steven Redgrave, serves as The Gold Cup Honorary Chairman. Redgrave won an incredible five gold medals in successive Olympic Games from 1984 to 2000, as well as a bronze medal. Today, Redgrave devotes his time to the support of rowing and sport globally, as well as philanthropy, through the Steve Redgrave Fund, which uses sport to bring about positive change in the lives of disadvantaged children. Open and collegiate single scullers will compete in The Redgrave Challenge at HOSR.
The Redgrave Challenge
Open to all College and Open Single Scullers, Sir Steven Redgrave will award medals to first, second and third place winners.